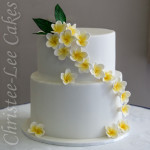 It's been a busy week this week, with two birthday cakes and a wedding cake.
The first birthday cake for the week was for a 12 year old boy who loves the skatepark, so a skatepark park was the ultimate choice.  This cake is a chocolate mud cake, cake & shaped to resemble a skatepark.  As all skateparks have graffiti, this was the perfect opportunity to test out my airbrush machine for the first time on a cake.  I've practised on paper but this was my first cake airbrush! Trent was thrilled with his skatepark cake

The second cake was a chocoholics dream.  A chocolate mud cake decorated with Kit Kats, M&M's, Jaffas & Malteasers.  I could just imagine the ill feelings from these 18 year olds after the combination of alcohol and excessive chocolate

The last cake for the week was a gorgeous wedding cake for Jen & Mark.  Bottom tier was a double height white chocolate mud cake top tier was double height caramel mud cake. Both cakes covered in white chocolate ganache and white fondant. Decorated with hand modelled frangipanis. Congratulations Jen & Mark!

My client's mother loves my fruit cake so she get her one for birthday each year.  This client is a regular of mine and always gives me free reign on the design of the cake, my only instructions are fruit cake and the size required.  I do ask questions such as her interests, favourite colour etc to give me a little guidence as sometimes free reign can be a lot harder than exact instructions! This time we went for a 20cm fruit cake.  As usual, I covered the fruit cake with white chocolate ganche which is a perfect match with the fruit cake which has white chocolate chips through it.
As I was told my clients mother likes flowers, I decided to go with a flower I'd never made before to improve my abilities of flower making.  The orchid was my choice.  Thank goodness once again for YouTube!  You can find some really great tutorials on there!  I enjoyed every minute of my orchid making and ended up with three flowers which I was very impressed with, even if I do say so myself

I decided to go with something a little different with this cake and make it into a ladies hat.  So I covered it in a brown fondant,  wrapped a piece of black ribbon around the base of the cake and topped it with the three orchids and a few brown fondant covered wires made to look like twigs.

This week my task was to create a Farewell cake for a miner who is also a farmer who was resigning from his mining job to go fishing!  The brief I was given was a naked man with red hair  in a boat with a sheep.  Hmmm, OK I'm up for that challange!  Modelling people is somewhat new to me.  I've not had much practise with them and was a little nervous.  I got straight to the task at hand and modelled my naked man.  I realised that the technique involved in getting the "bits and pieces" of a naked man was well beyond my talent and decided I would nicely place a hand modelled farmer's hat over the particular area in question. My client was happy with this as quite honestly had not put that much thought into this area hehe.  I also hand modelled a dinghy, sheep, fishing rod, life ring, fish, "Gone Fishing" sign, rocks and seaweed.  I baked a 25cm round caromello mud cake and covered it with milk chocolate ganache and blue marbelled fondant.  I was quite happy with the end result, as was my client!  See my testimonials page for her response! This was such a fun cake to make and I enjoyed every minute if it


My next project was 50 mini cupcakes for a Hawiian themed Hen's Party.  I always love mini's! I made a batch of vanilla cupcakes in red, pink and yellow cases.  I decided to test out my Christmas present (new piping tips) and chose three different tips.  I made three different buttercreams, red boysenberry flavour, pink strawberry flavour and yellow lemon flavour.  I piped buttercream onto each little cake.  I then topped each mini cuppie with a hand made fondant flower.  What cute little cakes!
I've also had four more bookings for the coming weeks.  What a great start to 2012!

Today is my little man's 6th birthday.  I gave him the option of any cake he wanted.  This decision proved quite a difficult task, with the choice changing with each suggestion made.  He finally settled on a Ben 10 cake.  His choice of flavour was vanilla (quite a change from the usual mudcake).  As he chose a plainer type cake, I suggested adding a filling.  Jake is a huge fan of Oreo's, so we went with Cookies and Cream filling.  Using my awesome Agbay cake leveller, I levelled the 20cm round cake then made a nice cut through the centre.  This is actually the first time I have filled a cake so it was a bit of an experiment for me.  I filled the centre with the freshly made Cookies and Cream filling (next time, I will add double the amount of filling I think).  I covered the entire cake with a thin layer of vanilla buttercream and then decorated with coloured fondant to create a Ben 10 Omnitrix.  Graymatter and all other decorations were hand made with fondant. Jake loved his cake.  Happy 6th Birthday Dude!! xxx
| | |
| --- | --- |
| | |

Last night I continued with flower modelling, this time trying out the rose.  A have read through a few different tutorials with each giving slightly different instructions.  I used the one which was best for me.  I have an 80th Birthday cake coming up in March and have been considering using roses and butterflies.  The customer has asked for a pink and silver theme with any type of decorations so I've sketched out a design and thought I'd give it a practice run.
After a couple of hours of colouring, rolling, shaping & modelling, I had produced two roses and a little rose bud which I was quite happy with.  It's a time consuming process but is extremely worth it!
I've also put in this post, a couple of pictures of the practice birthday cake, which I think I will change a little.  I am going to make some butterflies myself rather than use uneatable ones and think I will pipe some royal icing rose buds around the bottom of the cake rather than use ribbon.  I will post pictures of the finished product of this cake when it is made in March.

I've been wanting to try making gum paste flowers for quite some time but have been a little unsure of it. I purchased the basic tools such as a flower modelling tool set (including ball tool and veining tool), a few petal cutters, I used a piece of foam i had here for my foam pad and I used a couple of small plastic containers to hold my flowers until they had set. I did plenty of research on the interenet, watching and reading many tutorials. Read the rest of this entry »