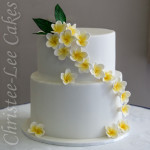 It's been a busy week this week, with two birthday cakes and a wedding cake.
The first birthday cake for the week was for a 12 year old boy who loves the skatepark, so a skatepark park was the ultimate choice.  This cake is a chocolate mud cake, cake & shaped to resemble a skatepark.  As all skateparks have graffiti, this was the perfect opportunity to test out my airbrush machine for the first time on a cake.  I've practised on paper but this was my first cake airbrush! Trent was thrilled with his skatepark cake

The second cake was a chocoholics dream.  A chocolate mud cake decorated with Kit Kats, M&M's, Jaffas & Malteasers.  I could just imagine the ill feelings from these 18 year olds after the combination of alcohol and excessive chocolate

The last cake for the week was a gorgeous wedding cake for Jen & Mark.  Bottom tier was a double height white chocolate mud cake top tier was double height caramel mud cake. Both cakes covered in white chocolate ganache and white fondant. Decorated with hand modelled frangipanis. Congratulations Jen & Mark!

Being a mother of two boys, girly cakes are not something I get to do too often, so I was very excited to be asked to create the princess cake.  It was my first dolly varden cake so I was a little nervous.
I baked a white chocolate mud cake in my new tin.  Getting the amount of mixture right was a bit of a challenge bu the amount I made was pretty close.  Levelling this cake also proved a little tricky.  The cake was covered in white chocolate ganache then covered with a pretty pink fondant, what else for a little princess! The princess head and torso was placed into the cake.  I made the princess a little crown from wire and beads and also a necklace (obviously this part of the cake is not for eating!) Her gown was decorated with royal icing which I piped on.  I enjoyed every minute of this cake! They also had some white chocolate mud cup cakes to accompany the cake.


This week I was asked to make a 21st birthday cake in the shape of a Bundeberg Rum can.  Three 5″ round chocolate mud cakes were baked to make this can.  The three were tiered on top of each other and covered in dark chocolate ganache.  The entire cake was covered in black fondant. The can decorations were cut from fondant and hand painted with gel colour.  I enjoyed making this cake!

I've fallen a bit behind in keeping the website up to date with my latest cakes so I'm adding the most recent two together.   A white chocolate mudcake covered with white chocolate ganache and coloured fondant then decorated with a hand modelled Mario topper and plenty of Mario decorations.
The second cake is a NSW Blues football.  A milk chocolate mudcake hand carved in the shape of a football, covered in milk chocolate ganache and covered in fondant.  All decorations on the cake are hand cut from fondant.

A Captain America Shield Cake – my first task for this cake was to research who Captain America even was and what his shield looked like!  With that sorted, I baked a round m milk chocolate mudcake and covered in milk chocolate ganache.  The cake was covered in fondant and then decorated with coloured fondant to look like Captain America's shield.
I've had a few new items that I've tested out on this cake and I must say that I am very happy with all of them! Firstly, I have changed brands of fondant and am soooo glad I did.  I am now using Bakel's which I find to be perfect in every way.  It is soft and not sticky which makes it much easier to work with.  It also has a nice taste.  My next new product are little foam cleats.  These little pieces of foam with an adhesive side, once stuck to the bottom of the board, make it easy to pick up the board and also much easier to put ribbon on the cake board edge.  The last of my new items are my funky alphabet cutters, these are awesome! I love them.  A little fiddly but definitely worth the effort.

My second attempt at a football! This cake was for a client's father who loves football and wanted a football cake for his favourite team, the Bulldogs.
A dark chocolate mudcake which was hand shaped like a football.  I have to give my husband some credit here as he helped me with sculpting the shape.  Once sculpted, the cake was covered in dark chocolate ganache and left to set. Next for the fun bit, covering in fondant. Colouring, cutting and covering for hours!  I was happy with the end result and judging by my client's reaction, they were too!
Thanks Kym for allowing me to create a fun cake for your dad!

Last weekend I was busy with two cakes.  The first one was a cocktail cake.  I was asked to create a cake for a cocktail party. Firstly I must give recognition to my inspiration behind this cake.  This cake was not my own design, I found a picture of a cake by Pauline Clifford of "Truelovecakes" and this gave me the inspiration for this cake. My client loved Pauline's cake also. Thank you Pauline, I have enjoyed recreating your cake!
This cake is a 25cm dark chocolate mud cake, covered in dark chocolate ganache and pink fondant.  I applied some pink shimmer to the fondant to give it a lovely glimmering look. The glass is a real cocktail glass which is filled with fondant balls, some home made bling and pink osterich feathers.  The girl has been hand modelling using modelling paste.
I made twelve dark chocolate cupcakes to accompany this cake with pink buttercream frosting and some pearl cashous for decoration.
This was a really fun cake to make! I had a bit of drama with my hand modelled girl, he leg fell off and I had to recreate on the morning the cake was being picked up which was a little nerve racking but we got there in the end!
Hope you enjoyed your cake and your cocktail party Lydia!