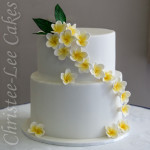 It's been a busy week this week, with two birthday cakes and a wedding cake.
The first birthday cake for the week was for a 12 year old boy who loves the skatepark, so a skatepark park was the ultimate choice.  This cake is a chocolate mud cake, cake & shaped to resemble a skatepark.  As all skateparks have graffiti, this was the perfect opportunity to test out my airbrush machine for the first time on a cake.  I've practised on paper but this was my first cake airbrush! Trent was thrilled with his skatepark cake

The second cake was a chocoholics dream.  A chocolate mud cake decorated with Kit Kats, M&M's, Jaffas & Malteasers.  I could just imagine the ill feelings from these 18 year olds after the combination of alcohol and excessive chocolate

The last cake for the week was a gorgeous wedding cake for Jen & Mark.  Bottom tier was a double height white chocolate mud cake top tier was double height caramel mud cake. Both cakes covered in white chocolate ganache and white fondant. Decorated with hand modelled frangipanis. Congratulations Jen & Mark!

Ben & Mel's wedding cake is by far my favourite cake that I have made to date!  It was huge with each tier being double stacked.  Each tier covered in ganache, fondant and of course the ever so time consuming ruffles.  I just LOVE ruffles!! I think they provide such a dramatic and beautiful looking result.
I made this cake last year so can't remember exactly how long it took but let's just say it was very time consuming (hours and hours of ruffling alone) but well worth the effort! I made 10 of the flowers even though I only used 5.  I needed to make sure I was prepared if any broke on either the trip to the venue or during the assembly.
I had a visit from the bride to be on the night before the wedding whilst I was ruffling away, stressing that it just wasn't going right and how on earth was I going to get it done in time.  Nothing puts your head back into perspective then a glowing bride to be!  Due to the size of this cake, it needed to be assembled at the venue.  This caused me a little bit of fear, as I wasn't able to see how it was looking as one until it was crunch time!
The sun was shining on wedding day which was fabulous to see.  I love being able to share in the special day of these glowing brides!  The cake was finished in the morning and I anxiously awaited the time to deliver the cake.  With each tier packed carefully it their own boxes with non slip mats and paper towel to avoid any damage to the ruffles, individually packed and carefully wrapped flowers, my bag of essentials – royal icing, piping bag, spatula, cake lifter, paper towel etc and of course my camera, I packed the car up and headed out to the venue.  I'm sure all you cake decorators out there feel my pain as you slowly but surely make your way to a venue with the precious cargo on board.  You feel every single bump that you are almost certain was there the day before and hope that the cake is surviving the trip.  I located the venue, a gorgeous winery and get shown the back entry in which I can gain entry to set up.  Now, getting everything through this back entry was going to be half the battle through wine barrels galore

The cake was being presented on a full wine barrel, beautiful! Yet also challenging considering the size of the cake.  I really could have done with a step ladder.  I carefully put my tiers together with minimal breakages, arranged the flowers (lucky I made spares, as I did drop one

), inserted the initial toppers then stood back and admired.  Argh, love that feeling! The sigh of relief when you realise all of your hard work has paid off and it looks fabulous.
Here are a few pics of the cake and the gorgeous venue!
Wow, it has been quite a long time since I have updated my website!  Unfortunately, I can not do it with ease from my IPad, so makes it difficult, meaning updates have been few and far between! But, rest assured, I am still here!
A few important changes you all should know:
– Change of mobile number.  I will be deleting my phone number from this website as the number listed here is no longer active.  The best way to contact me now is via email: christee-lee@brakel.com.au or via the contact page on this site.
– Facebook.  Christee-Lee Cakes is on Facebook.  This Facebook page is updated regularly so be sure to pop on by and like my page so my updates appear in your newsfeed

 https://www.facebook.com/pages/Christee-Lee-Cakes/128467890544452
- Flickr – Christee-Lee Cakes is also on Flickr.  Check out my Flickr page for a great way to see my pictures. http://www.flickr.com/photos/christee-leecakes
2014 is already looking to be busy, with quite a few cakes already produced and a few more bookings already taken for throughout the year! A couple of wedding cakes this year so keep your eye out for those ones, along with many birthdays and a few engagements too!  All of these plus my day job and mothering duties, keeps me very busy!  Wouldn't change it though, love my family, my job and caking is my creative outlet and stress reliever (most of the time

)
I will try and update my photos today.
I wish you all the best for 2014!! xx

Merry Christmas! So Christmas for 2012 has been and gone and what a busy time it was! I took on four Christmas Cakes this year which is quite a few for me considering I also work full time. They all got completed on time without too much craziness!
Three of the four cakes were for my sister's family. She was after a fruit, mud and a red velvet cake for Chrissy.  Being my sister, she let me have free range on design.  I went with a Christmas pudding for the fruit cake, a reindeer design that I had seen one of my other cake decorating friends do on cupcakes and thought it was so cute so I thought would look lovely on a bigger cake too. Thanks Aida Goodwin's Cakebox! The last cake for this lot was a red velvet Christmas Tree.
We had a slight disaster with the Christmas tree making it to its destination. It was an extremely hot day and during transit got a little squished on the top

I've been told that the taste was still great and that was the main thing.  My first disaster and although I'm unhappy that it had Ito happen, I am glad it was my sister it happened to.
My last Christmas cake for 2012 was a fruit cake for one of my regular customers.  She buys her Christmas cake from me every year.  This year I went a little fun with her cake, giving her a Santa cake.  She seemed quite happy with this and has already placed her order for next year along with a few birthdays in the mean time, gotta love a happy customer

I hope everyone had an enjoyable Christmas filled with plenty of love, joy and laughter!

This cake was something totally different for me, something out of my comfort zone I guess you could say.  It was a challenge that I enjoyed. The bride and groom were a lovely young couple who wanted something different, not standard fondant covered cake and wanted the rough look, I guess you might call it.  They showed me a few different designs/styles they liked and this was the end result.
A three tiered mud cake (peppermint, citrus & passionfruit).  Each tier was covered with white chocolate ganache then decorated with white chocolate shards.  The florist topped each layer with some flowers matching the brides posie.
The chocolate shards were hand made and this was a challenge on it's own! Working with very fine chocolate with the temperature rising was a delicate job.  I had to move quickly!
I was happy with the end result and the flowers just finished it perfectly!

Being a mother of two boys, girly cakes are not something I get to do too often, so I was very excited to be asked to create the princess cake.  It was my first dolly varden cake so I was a little nervous.
I baked a white chocolate mud cake in my new tin.  Getting the amount of mixture right was a bit of a challenge bu the amount I made was pretty close.  Levelling this cake also proved a little tricky.  The cake was covered in white chocolate ganache then covered with a pretty pink fondant, what else for a little princess! The princess head and torso was placed into the cake.  I made the princess a little crown from wire and beads and also a necklace (obviously this part of the cake is not for eating!) Her gown was decorated with royal icing which I piped on.  I enjoyed every minute of this cake! They also had some white chocolate mud cup cakes to accompany the cake.


This week I was asked to make a 21st birthday cake in the shape of a Bundeberg Rum can.  Three 5″ round chocolate mud cakes were baked to make this can.  The three were tiered on top of each other and covered in dark chocolate ganache.  The entire cake was covered in black fondant. The can decorations were cut from fondant and hand painted with gel colour.  I enjoyed making this cake!